Welcome to the blog of the Crocoapps studio. My name is Vyacheslav and today I will tell you everything I know about Youtube.
Tips for promoting on YouTube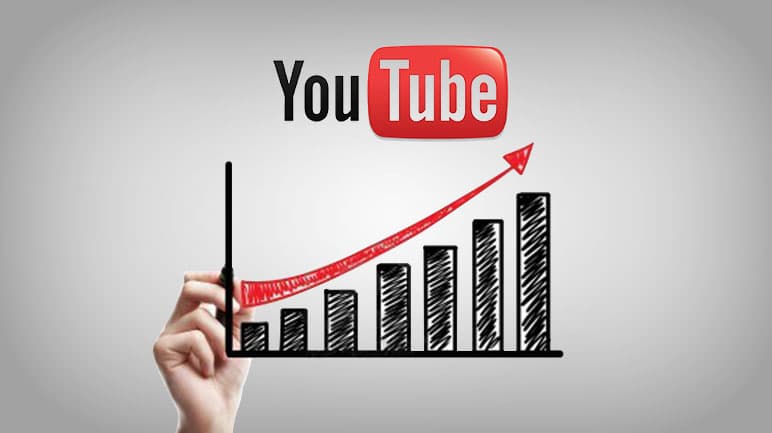 There are several working tips for promoting on YouTube. If you are wondering "How to promote a YouTube channel and gain subscribers?", then this article can help you. If you follow our recommendations, of course.
Tip one: "Social media."
No one will argue with the fact that social networks are firmly entrenched in our lives. We are in them morning, afternoon, evening and night. Don't forget to share the video on social media. The number of social networks is constantly growing. So why not take advantage of this? This is a free way to promote YouTube videos. After you upload the video, immediately send it to all possible social networks. For example, Facebook, VKontakte, Odnoklassniki, etc. If you have a budget, then you can afford to order advertising on VKontakte or Facebook.
Tip Two: "Video Responses"
This method is well suited for those who promote a personal blog on YouTube. You will be able to get new subscribers and viewers with the help of video responses. To do this, you need to find a video that is viral and write a review on it. Sounds simple, but don't forget that few people like negative videos. If you decide to review other videos, then remember that criticism should be constructive, and a smile and a good attitude is your trump card.
Tip three: "Create a blog!"
Your website or blog is a good place to get your video noticed. One of the mistakes of beginners is that they do not see much need to create all sorts of "personal pages". Now I will explain why it is so important to heed this advice. Your site gives you additional links to videos in search engines. This means more traffic and views. Don't have a blog yet? So create it! For example, in wordpress. It will take no more than 20 minutes for those who are familiar with the site, and an hour or two for those who hear about this resource for the first time.
Every person who wants to gain subscribers and make money on YouTube should have a blog. Keep this in mind and don't miss a great chance to attract additional traffic.
Tip Four: "Press Release."
You probably already heard about them. A press release is a press release that includes information about a brand or individual (in your case, a channel) that contains a position on an issue or news. The purpose of creating a press release is its further transmission to the media. This is a great way to promote both your video and YouTube channel. There are a huge number of sites that allow you to post press releases both on a paid and free basis. You will be able to find sites on your own by requesting "placement of a press release".
Bonus: Also, you can find your audience on thematic forums. Most often there is an opportunity to post your video for free. The main thing is to know your target audience.
Tip Five: "YouTube"
If you have a certain amount of money and are ready to invest it in the promotion of your video, then feel free to order advertising directly from YouTube itself. The resource allows each user to fully declare their channel. The only difficulty is the compilation of a properly functioning advertising company. If you succeed, you will save money and get inexpensive traffic. Remember, YouTube promotion is significantly cheaper than contextual advertising. By the way, if you are interested in the topic of promoting games and applications, check out this topic.
Tip #6: "Email- Marketing"
An old, but still effective way to attract instant traffic and promote videos. You just need to send an email with a link to your video to the Email database. Yes, it is easier to create a blog than an email database, but trust me, it gives results. To sum up, we strongly recommend that you at least think about creating it.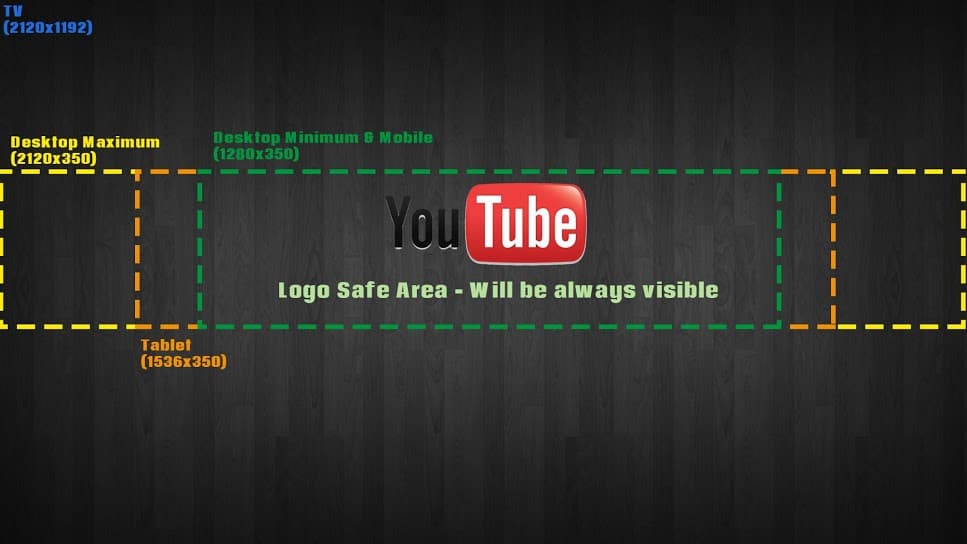 Design is important.
A few tips to get more views on your video:
Video title.
No one will argue that the title plays a key role in increasing the number of views. You need to know the right methods for optimizing YouTube videos. Follow our instructions and you will succeed.
Tip Seven: "Intrigue is the key to success."
The name must always be unique. You should think over the name and make it so that the user is interested in opening it. The user should be interested in the video. He should immediately understand that this is what he has been looking for for so long.
Example 1: " Tired of working in the office? Learn how to work from home and earn big money"
Example 2: "SMM or how to work with social networks"
Tip #8: "No Spam"
The name of the video should provide full information about what is present in it. Let's take as an example what not to do.
Example: "How to become a public speaker". When, as in the video itself, there will be an advertisement for hackneyed business trainings. Few people like such videos and, rest assured, users rarely watch them to the end. This way you will only get short views, which is critical for promotion to the Top YouTube.
Tip Nine: "Yes SEO"
SEO is search engine optimization aimed at increasing traffic to a website (in your case, video). Seo optimization is very important when naming your video. The mechanism is simple: you just need to insert keywords. But in order to take top positions in the search, it is better to add two keywords in one title.
How to do it: "SMM for beginners. What a beginner needs to know about SMM."
What not to do: "Work online. Online work. Work online in the network. Work."
Remember that spam is not your best friend. Cluttering the name is a sure way to a negative user reaction. Such a name will not be your calling card. No normal person would watch a video with a title like that. This works if, of course, your audience is adequate people.
Tip Ten: "Put the episode number"
If you are making a cycle of videos, then you should indicate the parts so that the user does not get confused in the order.

For example: "A tour of the cities of Russia. Route 1"
Remember that the name of the video can be changed at any time. Use this if you see that the video is not gaining enough views.
Tip Eleven: "Don't forget the brand"
The name of your channel or brand should be placed at the end of the name. This is how users will see your video when they search for your brand.
For example: "5 ways to hide bags under the eyes (NYX)"
NYX, in this case, acts as a brand.
The description of the video is also a very important point in promoting it. If you want to get to the TOP of YouTube, then you should not forget about optimizing the description along with optimizing the title.
Before optimizing the description, you should decide on the keywords. They must be present both in the title and in the description.
The description will help you attract new subscribers and increase the popularity of the video. Now let's talk about him.
Tip twelve:"SEO is your friend"
Behind this abbreviation lies a system, following which you should insert keywords at the beginning of the description and also include 2-3 more positions of keywords in the text. Believe me, this will be enough to attract views and not be considered a spammer.
Tip thirteen: "Volume is not that important"
Many beginners ask themselves the question "What is the optimal description size?". In fact, volume does not play a huge role. The main thing is not less than five hundred characters. You can achieve the desired volume with a template. For example, is a good example of optimized text :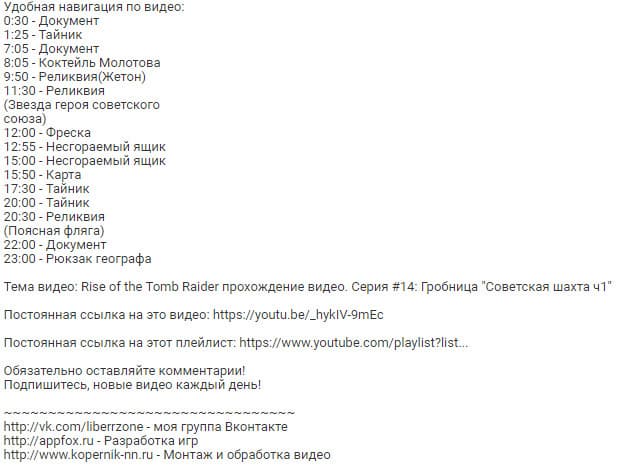 As you can see, time codes act as text (be sure to add time codes - they directly affect the position of your video.
Tip fourteen: "Insert links"
Remember, links to third-party resources, if any, are best added at the beginning of the video. If you don't have any, you can always insert a link with a subscription to your channel.
Also, don't forget to include links to your social networks. They will act as backlinks. At the end of the description, insert a link to the video you are writing a description for. You're right, it sounds weird, but it works. Your video is often used by other sites and many of them take the description to the video. This is how you get a backlink that will help you promote your video on YouTube even more effectively.
Tip fifteen: "Don't go overboard with tags"
There is no need to write tags in the description under the video. Believe me, if you enter the tags in a special field, then this will be enough. Now this type of spam is not banned, but most likely it is only a matter of time.
Only the first six tags will be searched.
Tip Sixteen: "Be Unique"
The text below the video must be unique. It is easy to check using various services. With a flick of the wrist, enter "Check text for uniqueness" in the search box and you yourself can figure out how exceptional it is. Also, such services will help you find out the percentage of spam, water and, of course, point out grammatical and punctuation errors. In general, we recommend to use. It is difficult to achieve high uniqueness in commercial videos, but the recommendation is to stick to 95%. Remember that you need to check not only for words, but also for phrases.
The article - how to promote your channel on Youtube has come to an end.
Read our blog and subscribe to updates.
Email questions [email protected]