Designing your future affairs on paper (notebook, notebook, etc.) has always been inconvenient, and in recent years it has also become irrelevant, because task schedulers have appeared. They allow you to carry out full project management, easily erase what you have written, write again, insert more words between words that are nearby. In this article, we will describe the most popular apps from the mentioned category.
The most common task schedulers
In the beginning, we will tell you about the best, in our opinion, task scheduler, and we will finish with the most non-standard one.
Apptask.ru
New in 2020 - the best time tracker. Very powerful free version. Only large teams need a paid plan. A team of up to 5 people can use it for free.

There are all possible reports to count hours spent. Salary, weekly, general, there is even a report on the GPS coordinates of your employees. Screenshots screens can be configured to capture every minute. The built-in task board, the functionality of which remains at the highest level and allows you to develop products according to Scrum, allows the tracker to take the lead. There is still not a single time tracker on the market with its own task board. This forces teams to register in several services, set up integrations, pay for both the board and the tracker. Apptask.ru is the only solution for remote IT teams that allows you to receive Trello + Hubstaff + Jira in one service for $5 per month. If we take the functionality that Apptask provides in other services, the total will be at least $20 per employee.
Toggl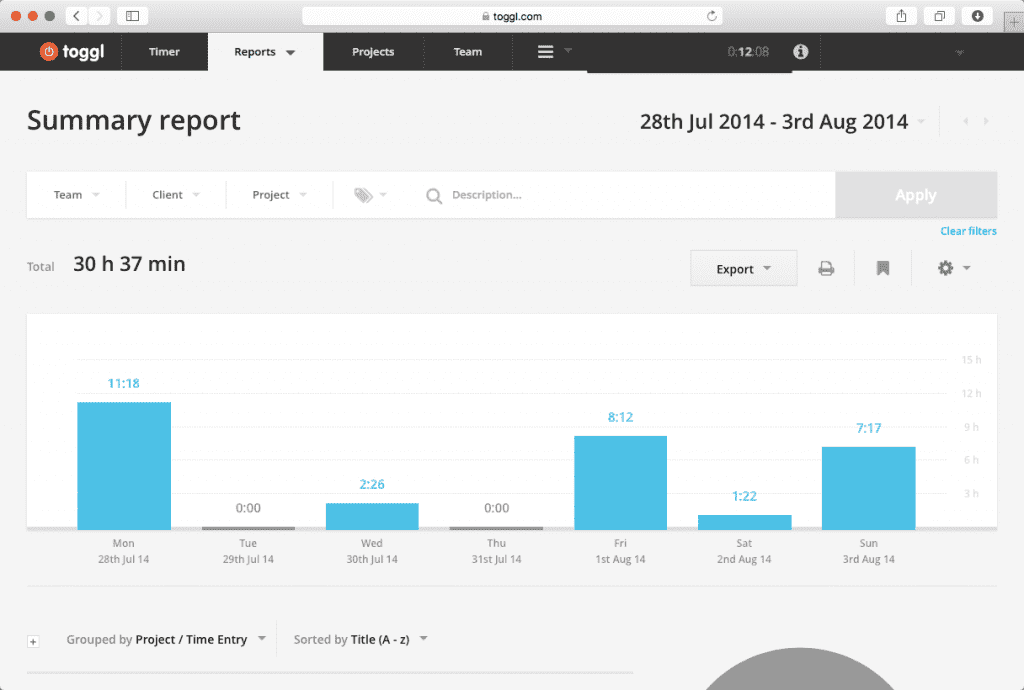 Free. It is an online service with an optional application attached to it for the most popular platforms. There is a paid version, it costs $5/month. The service helps to control the activities of employees at their workplace, increase their own self-discipline and productivity. The paid version includes the ability to collaborate with multiple users and introduce an hourly rate.
Pros:
Free basic version. Moreover, it is not some kind of truncated, but quite functional. You can fully work;
It has a user-friendly interface. It takes a long time to figure out what and where to click;
Can be used on desktop, website and mobile devices;
Suitable for both solo and team work;
Enables you to create an unlimited number of projects and clients.
Weaknesses:
Many people say that there are more convenient and functional applications.
TimeEdition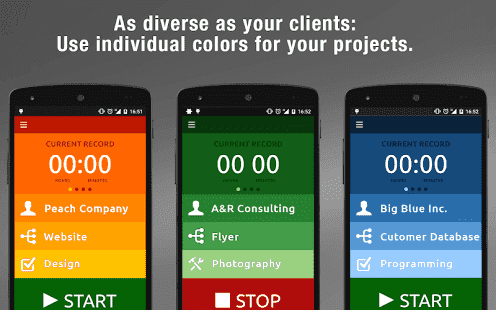 Free. This task scheduler is very convenient for recording the time of work at the computer of employees of a small company. Allows you to effectively interact with multiple customers. Unlike some other trackers, it captures not only the total time of work, but also the beginning and end of each segment of the workflow.
Pros:
Free;
Neat and extremely minimalistic interface;
Works on all major devices;
Can export reports to Excel;
Allows you to immediately, literally on the fly, transfer all information to an electronic calendar.
Weaknesses:
The program is convenient only for a certain type of work processes, clearly divided into stages;
It will not work to start the timer quickly. Before that, you will need to add information about the customer and the specific work.
Freckle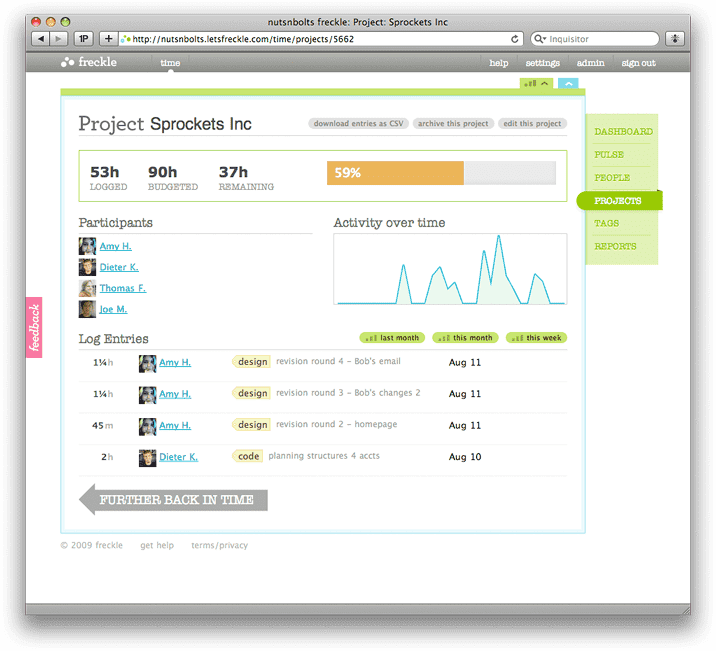 Free. In terms of ease of use and capabilities, judging by the reviews, this time tracker occupies a solid middle position. It does not have any outstanding features and features, but the program also does not have serious and justified criticism regarding the work.
Pros:
Free;
Produces very detailed reports;
Functional and easy to use;
Using an OS X app, timers can be switched without opening the web service itself;
Information about the terms of work is displayed directly on the main page in a tabular form with a pie chart for each day;
Cons:
No built-in calendar. For some users, this is extremely inconvenient.
Asana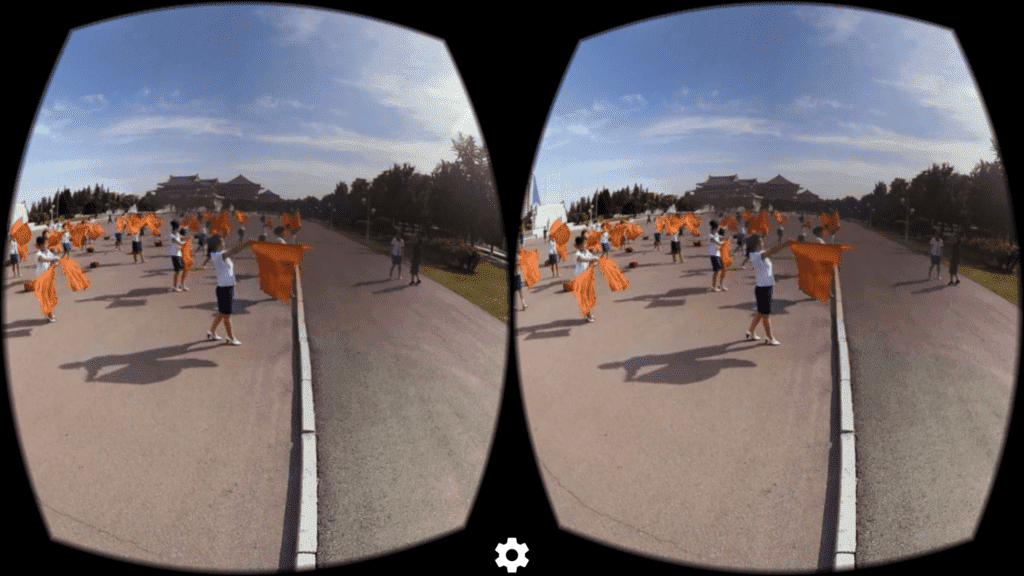 Free for everyone with a limit of 15 users. If there are more, you will have to pay 13.49€ per month. It has a clear and simple interface. Intuitive boards make it easy to visualize all your work. The program helps to easily divide it into parts and organize it so as not to break out of the schedule. After completing the work, funny flying unicorns appear on the screen. A trifle, but nice.
Pros:
Free for a small team;
Easy to read and use interface;
You can easily manage documents and get detailed reports;
When necessary, the program sends notifications and reminders;
The app has over a hundred integrations. Thanks to this, you can combine mail, files, requests, etc. in one place.
Cons:
Pay €13.49 per month too expensive in the opinion of many.
Pyrus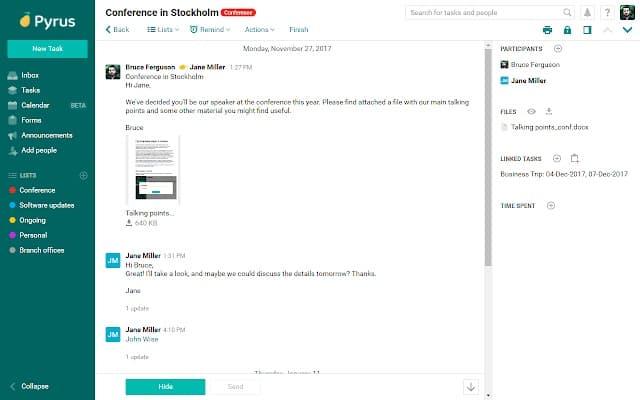 Free. For businesses, it will cost 279₽ per user. Allows you to quickly set tasks, add interested employees, appoint a responsible person. Available on common mobile platforms, but most often used as a web application. Owners of the paid version are guaranteed priority support, data backup, 100 GB for storing work files.
Pros:
Free;
Can be synchronized with any of the databases;
Easy recording of the working time of each employee for the performance of work and its stages;
Allows you to automate the workflow as much as possible. The necessary data immediately becomes available to the whole team;
There are a lot of features to make working with tasks easier, for example, "On control", "Reminders", "Deferred".
Cons:
Some users complain about the inconvenient calendar.
Trello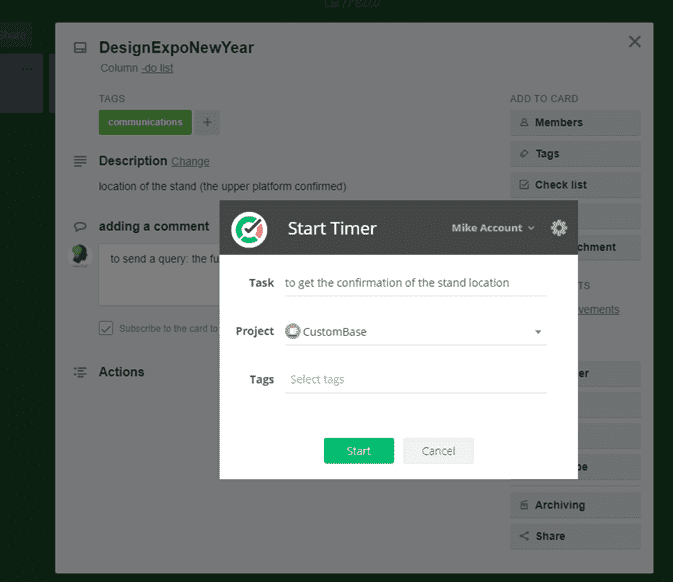 There is a free version and two paid ones. Paid "Business Class" will cost $12.5 or $9.99 per month. Paid "Enterprise" from $29 to $250 per user per year, depending on the number of users.
Trello makes it much easier to work in a variety of niches and personal planning. Good for team and individual work. Not suitable for enterprises and companies with a large number of employees. Not bad for working with programmers. How to quickly find the latter is detailed in an article called "Where to look for programmers".
Pros:
Functional free version. For standard tasks with a small number of team members, it justifies itself;
Registration, basic settings and implementation can be done in just a few hours;
It has a clear and user-friendly interface. According to many, his design is not bad;
Ideal for solo freelancers as well as small teams such as mobile app developers. You can read how they are being developed at page;
Linked to over a dozen different external services, including Google Drive, Figma, Dropbox, Typeform, MailChimp, and more
Cons:
There are no confirmations.
Bitrix24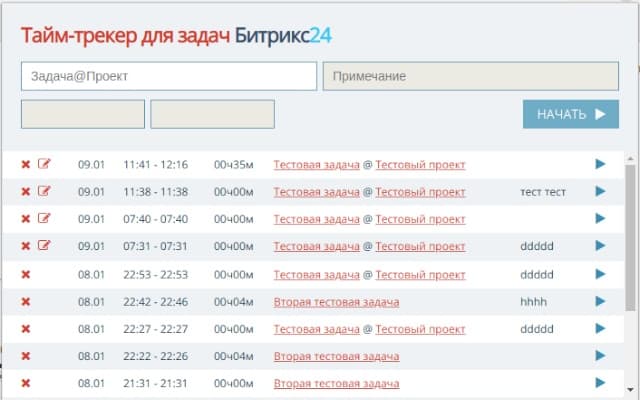 Price 500 ₽/month. The task tracker allows you to effectively control your work and employees. It has extensions for all browsers based on the Chrome engine. Using the reports page, you can easily find out when an employee works and how much time he spends on other activities.
I see no point in listing the standard advantages that have been mentioned more than once in the description of other similar programs. In order not to bore the reader, I will be more brief.
The main thing that a program of this kind should do, Bitrix24 does. The application stores all data on your portal. Perhaps this is the only significant feature of the program. Of the minuses, one can note the scarcity of information about Bitrix24 even on the foreign Internet.
Jira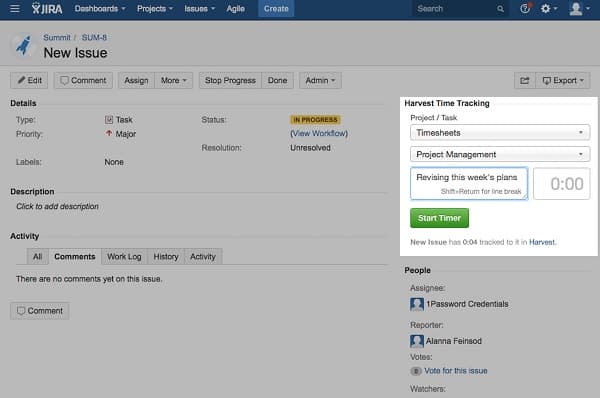 $10 per month. Free trial period 7 days. In essence, this is an adaptive web-based issue tracker system used to organize and facilitate the management of the development process within projects. Allows you to identify, track and record the results, requests and errors of employees.
Perhaps, the main advantage of Jira can be called a large number of plugins that significantly expand the functionality of the program.
The main disadvantage of many is the almost complete absence of a free version. A week of free use is not enough even to understand and evaluate the program well.
Yandex tracker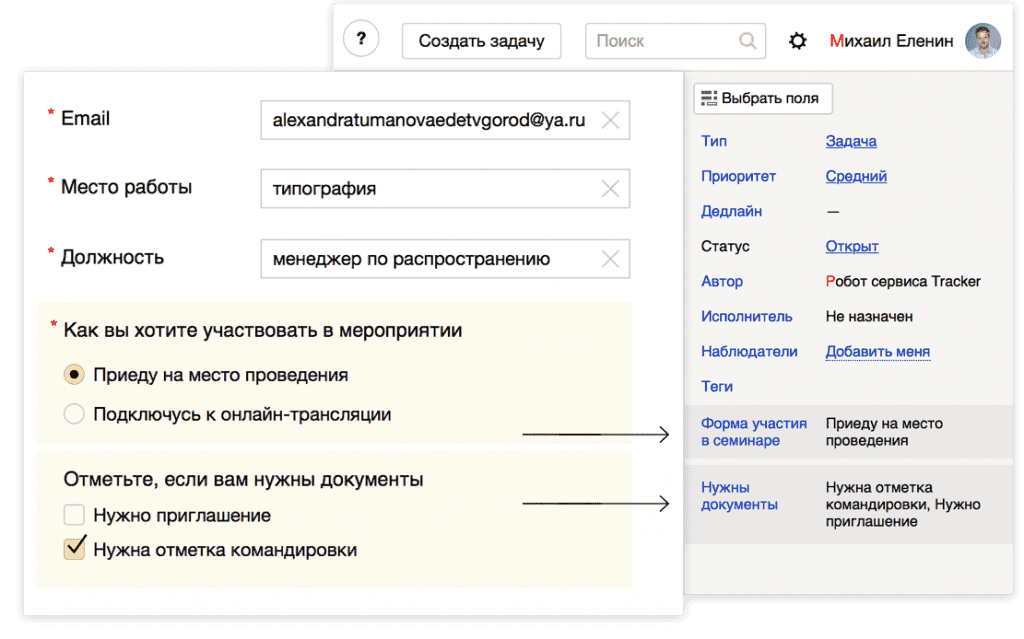 Free for 1-5 people. If the company employs from 6 to 10 employees, the tariff is 93 rubles. The maximum cost is 209 rubles / month. per person, if employees are from 11 to 100 people. For a company with 101 - 500 employees, the price is 163 rubles. per person. If the company employs 501 - 2000 people, then the fee is 81 rubles per month. Free trial period 30 days.
The system is very flexible and functional. The interface is understandable without special mastering lessons, however, if the work is multi-level and complex, it is better to study it in detail. The advantages include very flexible access settings, a Russian-language interface, high reliability of data storage in the cloud. Unfortunately, there are complaints that the product is raw and unfinished.
Redmine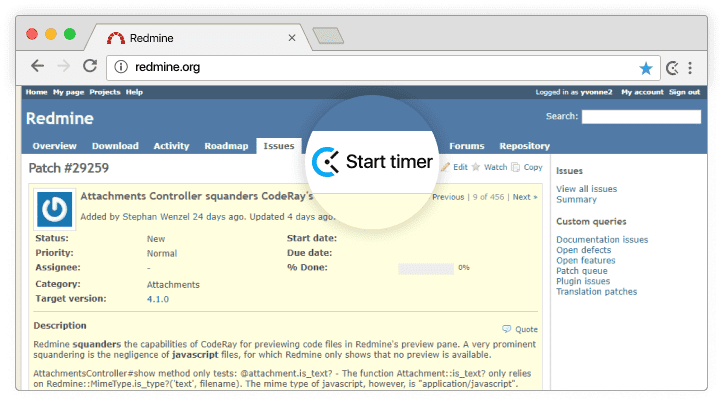 Free. It is a system for control, provides competent project management, allows the user to maintain several of them, several databases and LDAP authentications. Among the advantages, one can note the maintenance of a Wiki and forums related to work, a flexible system for tracking specific works and releases, and the presence of a multilingual interface. Of the minuses, a number of users noted the outdated interface and the hiddenness of some functions, so you won't immediately understand where they are.
Slack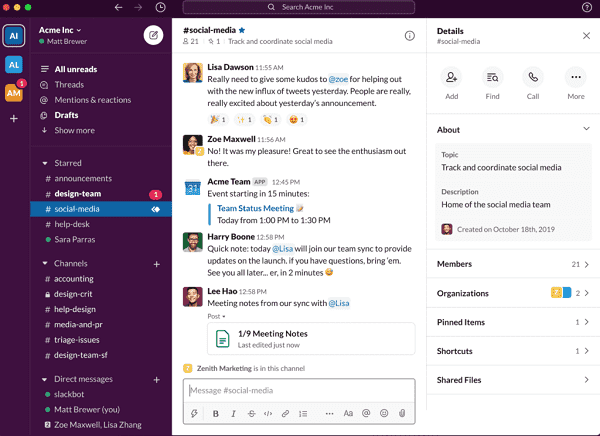 $8/month for each team member. With Slack, you can easily control the work of employees and quickly summarize its results. It is considered the most convenient corporate messenger. Video calls are available through the system, but the quality of this function is much worse than that of Skype. Slack is most popular among IT companies, including those that develop games. How to open a game development studio read here.
One of the main advantages of Slack is the use of different versions for the most convenient work from any of the devices. The program allows both group communication and personal messages. The main disadvantage of Slack is its high cost.
Basecamp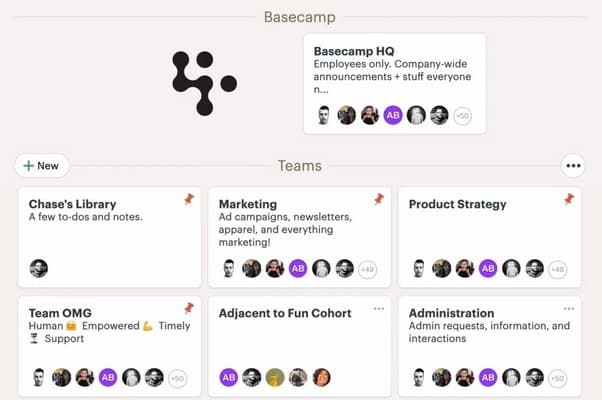 A 30-day free trial is provided. The program is very well suited for active communication in teams with a wide variety of employees. Not bad proved itself in organizing group discussions, sharing documents, tracking the work and productivity of each of the employees. In a number of cases, the Basecamp service allows you to completely cancel offline meetings and significantly speeds up work on projects. There is no reliable information about the disadvantages of the software solution.
Google Tasks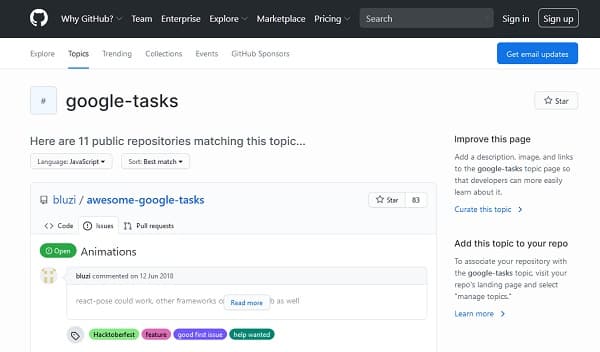 Free and as simple as it gets. Ideal for those who previously wrote down the planned cases on paper. The program does what it should and nothing more. You can create tasks, describe them, add subtasks if necessary. Before the user, they appear in the form of a bulleted list. When the time comes, any of the works can be marked as completed. Each of the scheduled events is below the list. The latter can be unlimited. As a trade-off for simplicity, Google Tasks has lost a number of organizational features available in other apps.
Any.do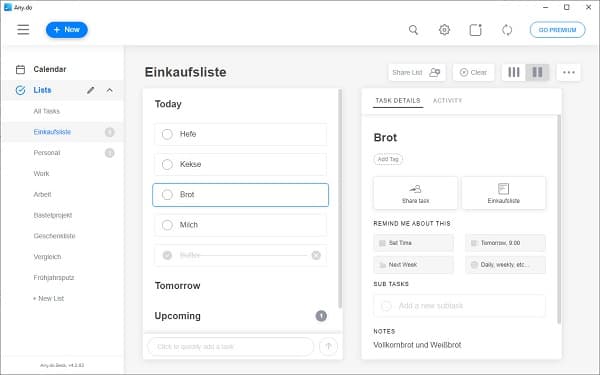 It's free, but the premium plan is $3.50 for Android and $5 for iOS. In appearance, this diary program is very minimalistic. It has a large number of different features. Not all of them, to be honest, may be needed immediately, but as you use the electronic diary, their usefulness becomes obvious. In addition, Any.do integrates a shopping list and a simple calendar. Synchronization is available between a computer, tablet and phone. The app works seamlessly with Siri and Alexa and Slack voice assistants. There were no cons as such.
Todoist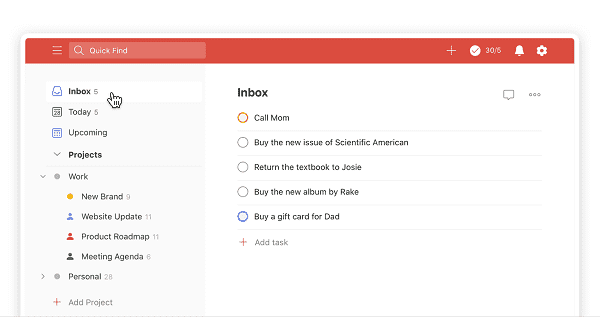 The paid version will cost $29. The free version has significantly reduced functionality. The program allows you to collect cases by day, week, focus on the really most important of them. Tasks can be grouped into lists, projects, marked with different colors and levels of importance, delegated to other people. The statistics of completed cases are presented very clearly. There are no confirmed flaws in Todoist. Some of these include seriously reduced functionality in the free version of the application.
Omnifocus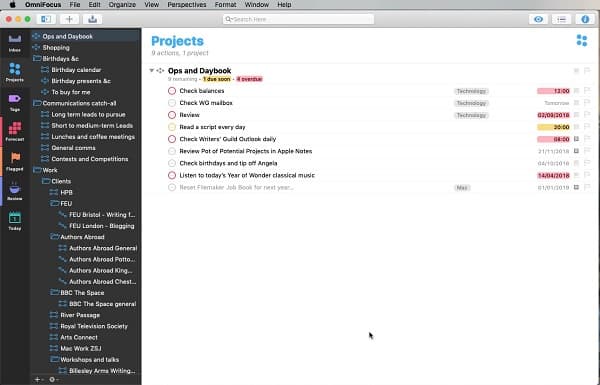 $9.99 per month or $99.99 per year. The application has a very large number of functions and settings. To use the program, you do not need to learn all of them at once. Omnifocus offers to assign a whole bunch of parameters to each event: project name, resource intensity, priority, etc. There are tabs in which you can check the progress of each of the cases. A special feature is their assignment depending on the context. Of the minuses, a large number of manual settings can be noted. If there are a lot of projects, not 3-4, but more than 10, you will get tired of specifying and filling in everything.
MyLifeOrganized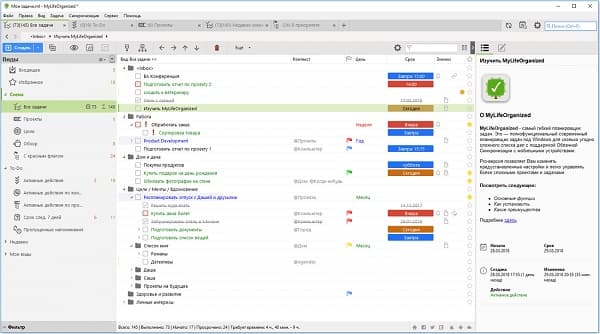 Free but Pro for $49.95 for Windows, $26.99 for Android, and $29.99 for iOS. The program makes it very easy to build a hierarchy of cases, break them into subtasks. Assign tags, execution time, place and urgency to each. Among the shortcomings, if you look at the reviews, you can highlight not very good visualization and high, according to some users, price.
Microsoft To-Do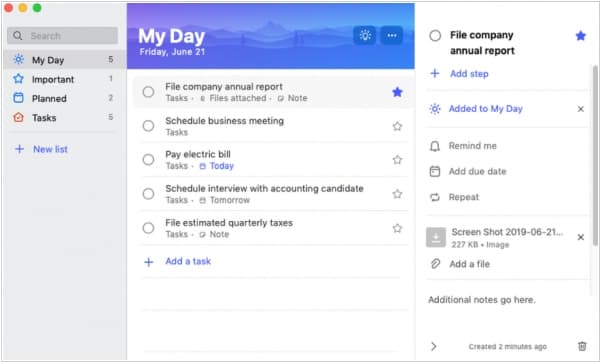 Free. Microsoft's own case management app. Integrated with Office 365. Immediately striking is a great resemblance to Wunderlist, a similar product of the company. The tools in Microsoft To-Do are basically the same as they are in it. Setting new events is extremely simple. There is an intelligent hint tool that analyzes your previous entries and displays new ones based on them. Nothing concrete can be said about the minuses of the program. If Microsoft To-Do has flaws, then you can only find out which ones from your personal experience of use.
Ike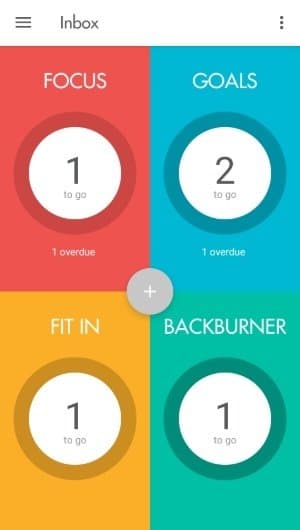 Free. Upgrading to the Pro version will cost only $2. For business planning, the "Eisenhower Method" (34th President of the United States) is used. The program helps you prioritize upcoming events based on their urgency and importance. The program, with your help, organizes things into a structure from which it immediately becomes clear what needs to be done first and what should be done later. You can add voice notes to each work, attach images, set a reminder based on your location. The disadvantages of the application, many include the complexity of long-term planning.
Cal Calendar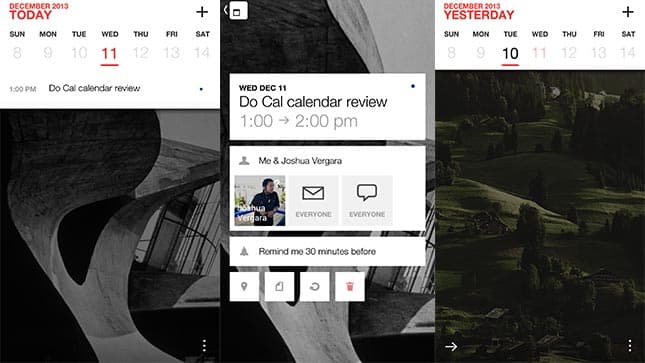 Free. The brainchild of the same developers as Any.do. It impresses with its functionality and well-thought-out design. Supports Exchange and Google Calendar, widgets, voice recording and more. Integrates directly with Any.Do To-Do List. As a result, the user gets a very powerful tandem of applications that allows you to effectively conduct very different work. Moreover, extensive functionality does not complicate the use. Events can be added very quickly, contacts and geolocation data are entered automatically. Cons are not noticeable.
Habitica: Gamify Your Tasks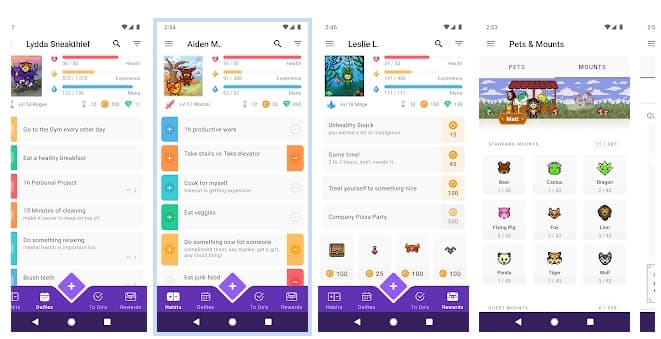 Free. Done non-standard. Helps those who have problems with motivation and bouts of irresistible laziness.
On first launch, instead of entering a to-do list, you will be prompted to create a playable character. Then the to-do list still has to be entered. For each completed of the tasks you specified, the created avatar will receive experience and gold. It can be spent on strengthening the character. If the job is not done, the character will take damage. The program helps to imagine that you are not doing routine and unpleasant work, but playing a game. Reviews about the application are very favorable.
The disadvantage of Habitica, perhaps, is the abundance and complexity of settings. However, this is understandable, because the program should not only contribute to the proper organization of affairs, but motivate them to complete them.