Creating and promoting applications is troublesome, but behind these worries you should not forget about monetization. Especially if you decide to provide the app for free.
Today we will talk about mobile advertising networks. They register advertisers (developers, marketers, webmasters) who promote their products and application owners who want to earn money from their users. The former launch campaigns, the latter host ads.
The income of the advertising platform (namely, your app will be considered as it) depends on:
volume and quality of the audience;
user activity;
ad format;
Bid value (most often determined by targeting settings, for example, a user from the US is valued more than a user from Zimbabwe).
Unfortunately, we can't give you a guide on the amount of monetization income, but we will provide a list of the best partner programs for developers. Be sure to register with them if you want to reach a stable profit.
Most of the ad networks in this selection are in English, but they work with partners from all over the world. So do not be embarrassed when you see a non-Russian interface.
1. AdMob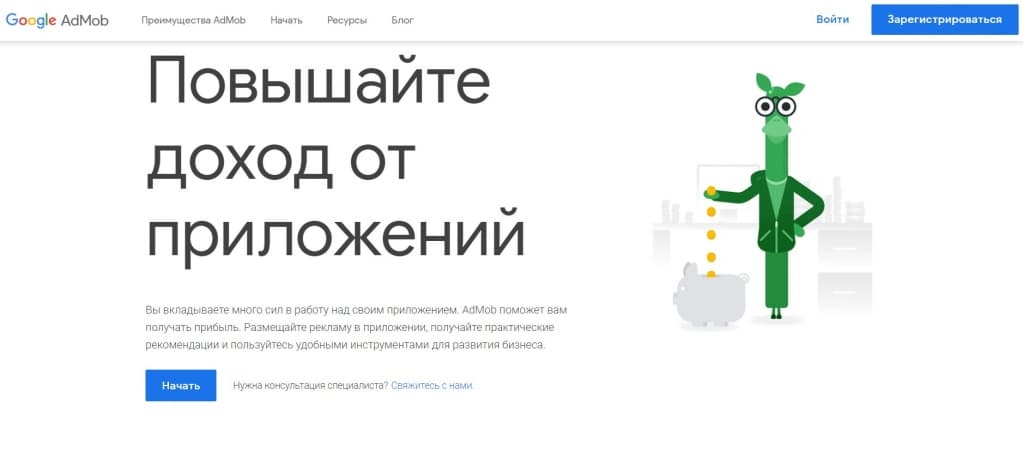 AdMob is the most advanced ad network for mobile devices. Still, because it is part of the Google corporation. Integrating ads into apps is incredibly easy. If you are new to mobile marketing, AdMob is the best place to start. Unlike other networks, AdMob ads are not intrusive or aggressive.
There were some downsides. Due to the high popularity among developers, Google artificially lowers the cost per click. Indeed, why pay more if there are a dime a dozen advertising sites. For experienced marketers and those who want to get more income, we advise you not to limit yourself to one AdMob.
2. Media.net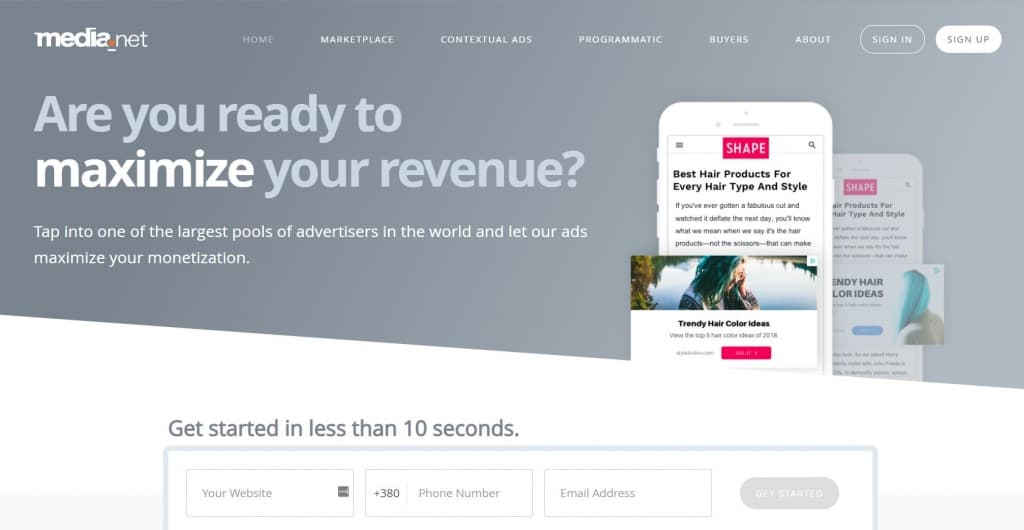 Media.net is the ideal solution for those who have the majority of the audience - residents USA and UK. Advertisers are predominantly Americans and British. The site works only according to the CPC model. The payouts here are much higher than other networks that mix CPM and CPC.
Let's separately note machine learning algorithms. The neural network analyzes the users of your application and selects relevant ads. As a result, advertisers get more clicks, and you get more money.
3. StartApp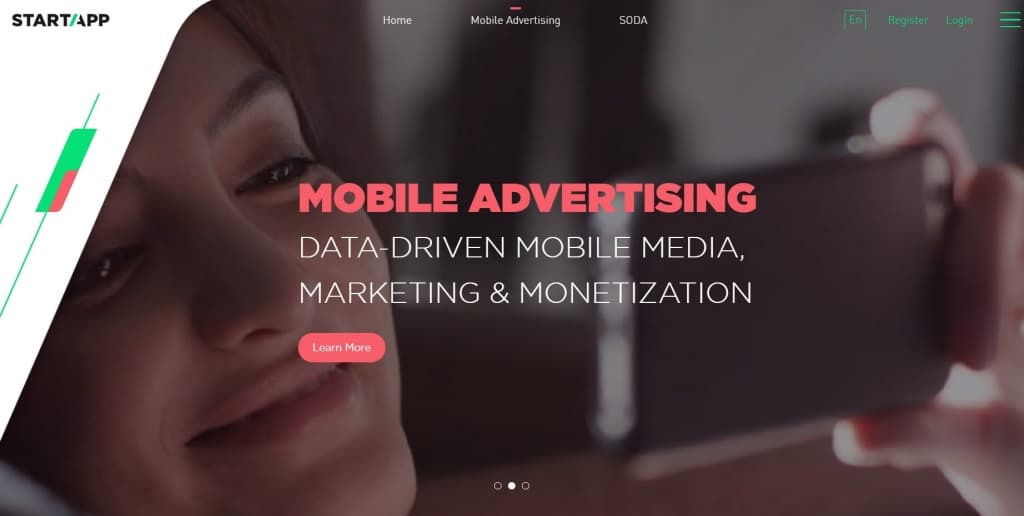 StartApp is one of the oldest and most trusted platforms. Specializes in interstitial ads and video ads. Your users will see a promo when they move between sections or levels. This format is not as intrusive as, for example, banners. Ads do not overlap the interface.
Another plus is a huge database of advertisers. As of the end of 2018, it had about 400,000 mobile products.
Relatively recently, the creators of the platform have added 2 innovative advertising formats - 360 video and VR ads. But they are only suitable for the respective applications.
4. Epom Apps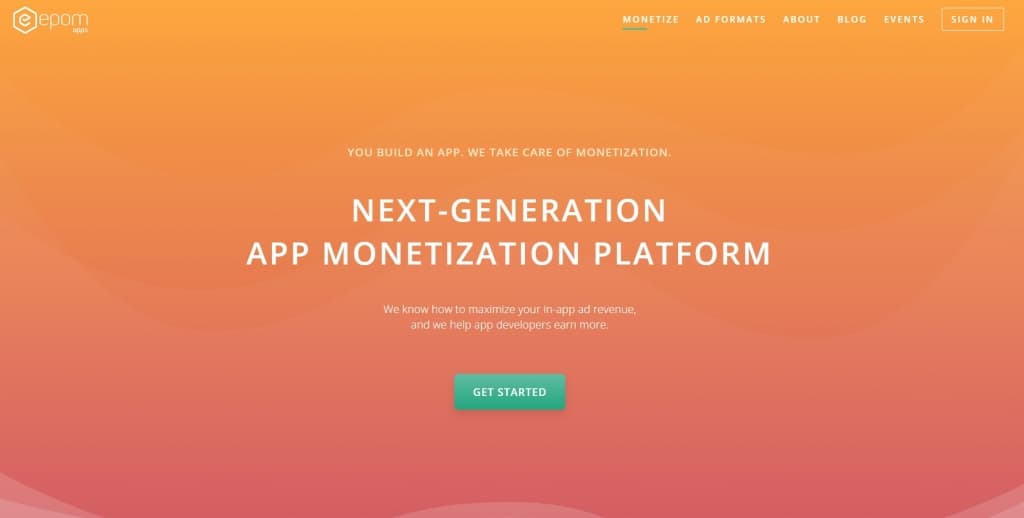 Epom Apps is a top platform with next generation algorithms that optimize ad delivery. For each app, the neural network automatically builds an individual monetization strategy and adjusts it as new data arrives.
The ad network has an incredibly responsive support. They will help you choose the optimal advertising formats or their combinations, as well as integrate the SDK.
Due to the collaboration of machine and human intelligence, revenue from Epom Apps is 30% higher than other grids.
5. Oath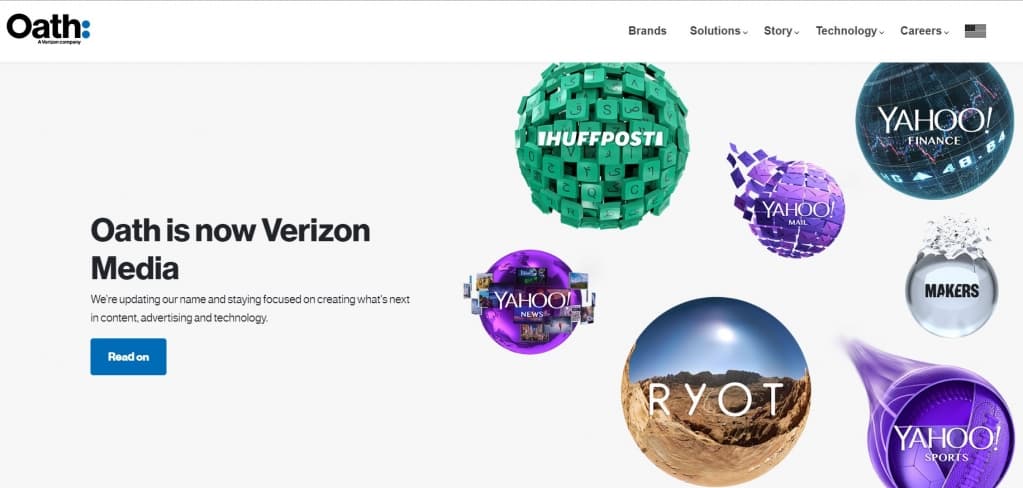 Oath (formerly known as Millennial Media) offers developers a wide range of app monetization options . The advertising network has a built-in tool for maximizing the rate per click. The platform selects the most profitable offers from advertisers.
If you have a quality audience, then you can get into the list of premium sites. Then the income will increase significantly.
The ad network also has an ad exchange partner program. You will be able to promote your product in other applications by bartering.
6. SmartyAds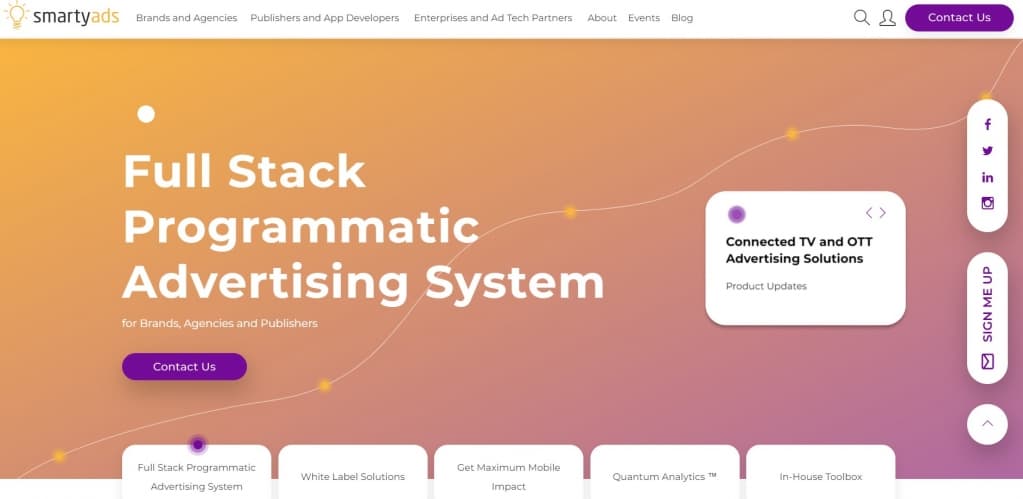 SmartyAds is a company that develops its own innovative software solutions to maximize the income of advertisers, developers and sites . SmartyAds was one of the first to secure its platform with blockchain. The company also released a number of universal tools for mobile app marketers.
Thanks to advanced technology, the grid generates about 300 million impressions daily. Supports almost all mobile and desktop formats.
7. InMobi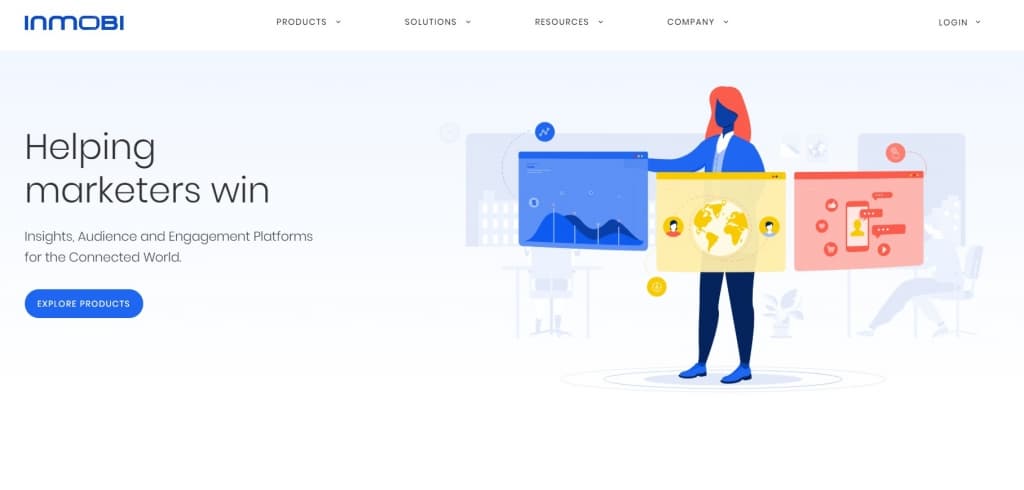 Back in 2015, InMobi introduced Appographic Targeting technology. Its essence is that algorithms analyze user preferences and can predict which product will appeal to the target audience. The option increases the likelihood of clicking on ads, which means that the developer's income grows.
8. Smaato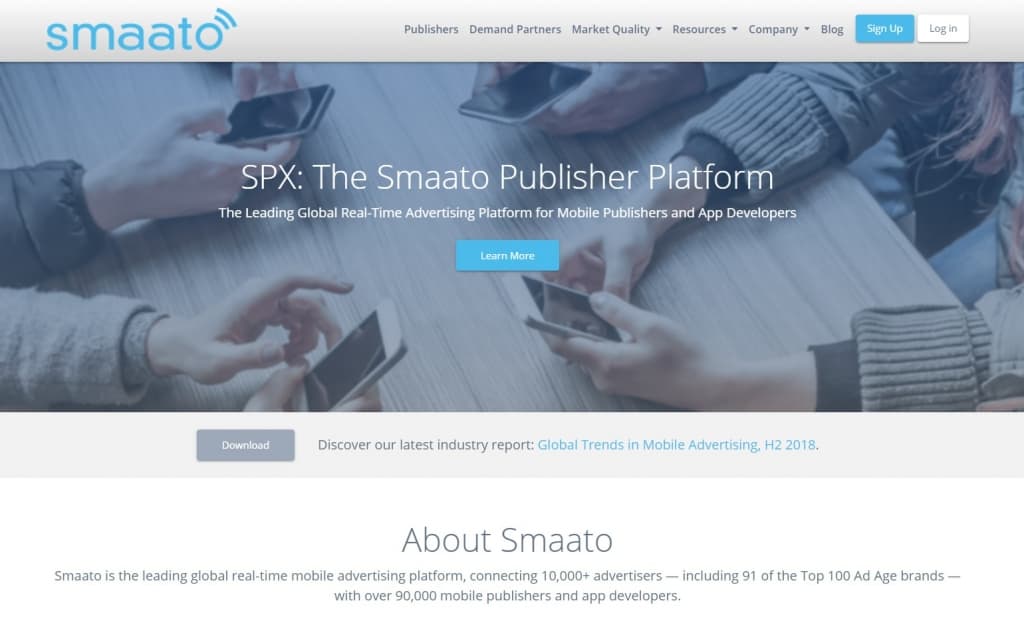 More than 10,000 major advertisers work with Smaato on an ongoing basis. By registering in the grid, you automatically enter the databases of 450+ affiliate programs. The platform integrates tools to increase eCPM and maximize profits.
9. Chartboost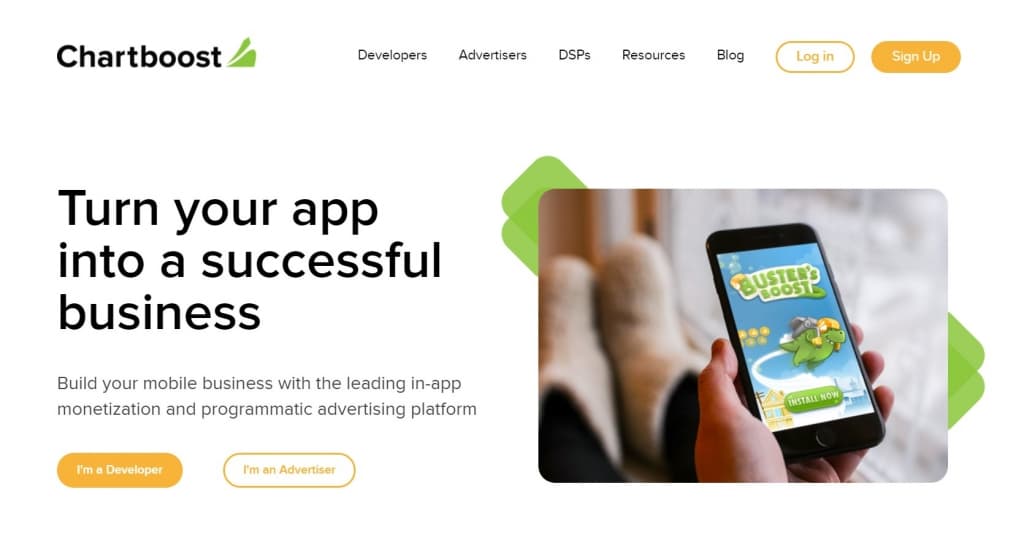 Chartboost is a mobile advertising platform primarily aimed at gamers. Basically, the grid specializes in motivated traffic. Users receive in-game bonuses for viewing ads.
In your personal account you will find detailed analytics, and not every platform can boast of this. Still in Chartboost, carbon monoxide support. The guys adequately, quickly and with humor answer questions. They do not work according to scripts, which, of course, pleases.
10. Unity Ads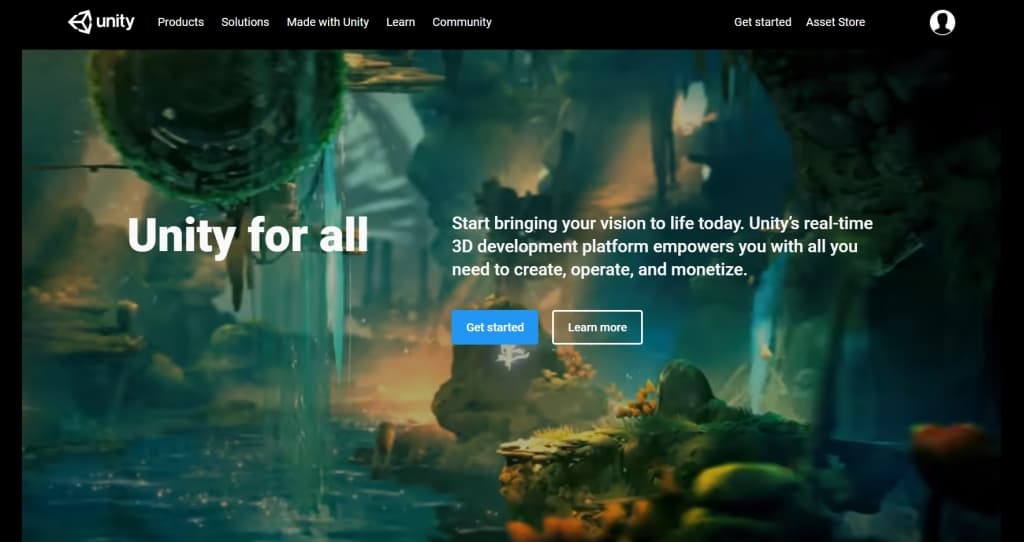 The Unity conglomerate brings together a ton of developer products. Unity Ads is a pioneer in mobile app monetization. Ads are perfectly integrated into products. There is a Russian-speaking support. The interface is partially Russified, but this is quite enough for work.
11. AdColony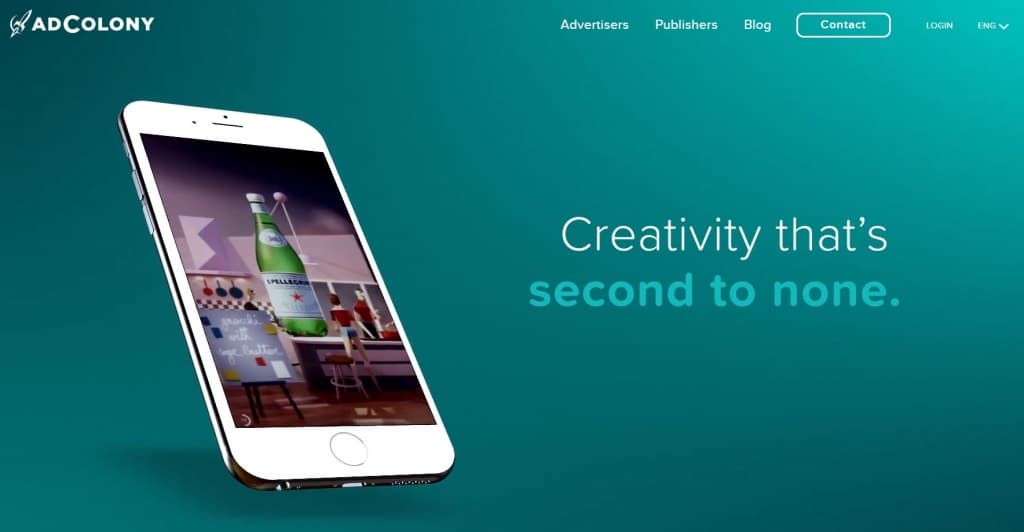 AdColony is a market titan that produces its own interactive ad formats. HD Instant Play technology allows you to display high quality ads on any type of device at any Internet speed. The probability of a click on an ad increases, as does the income of the advertising platform.
By the way, a good comparison of AdColony, Unity Ads and Chartboost is published in the blog AppTractor.
12. Leadbolt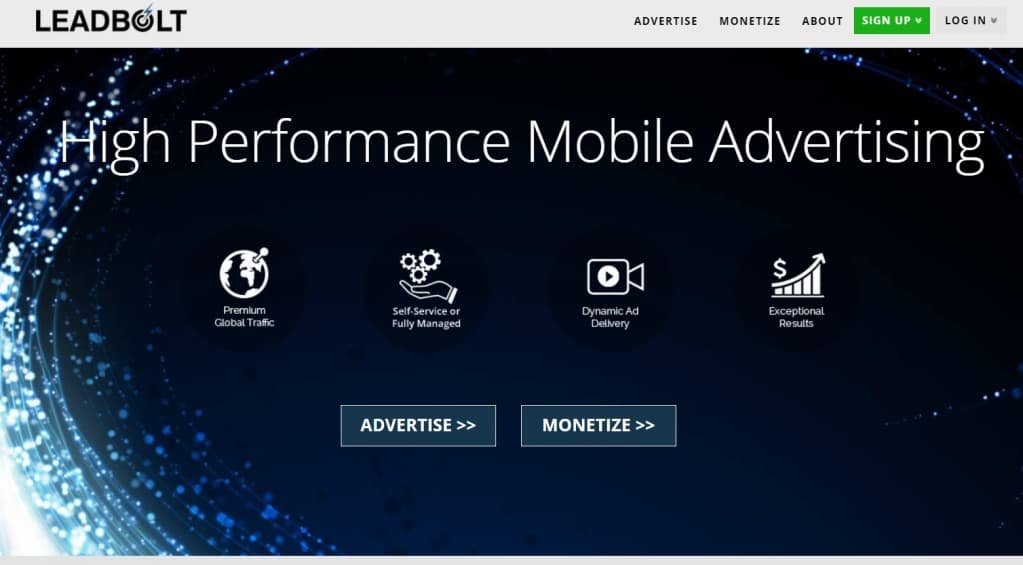 Leadbolt is the leading mobile advertising network. It offers developers advanced technology to find partners who want to place their ads.
If you refer another developer, you can join the referral program. You will "drip" a percentage of his income.
13. Fiber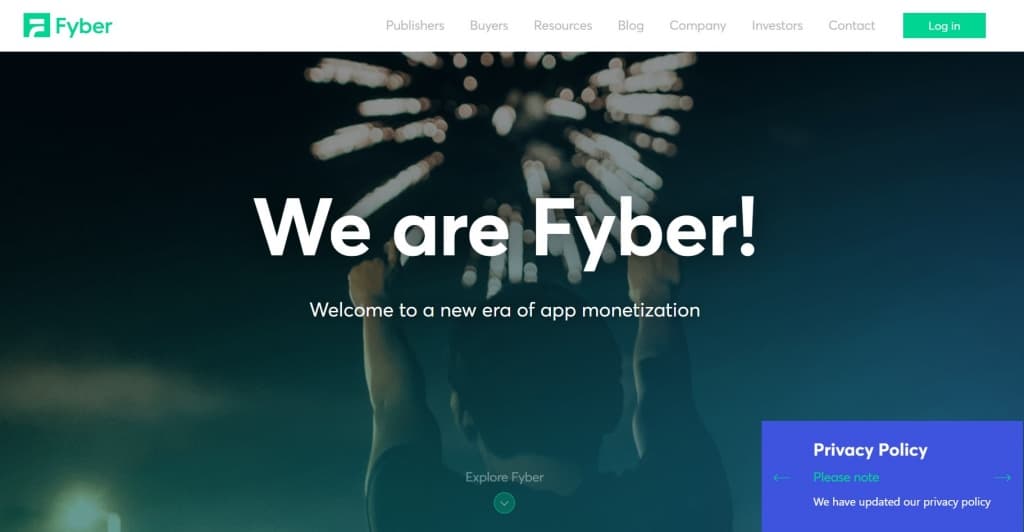 The Autopilot feature is the main feature of Fyber. It allows you to automatically optimize various sources of income. Ads from advertisers who pay you more will show more often.
14. IronSource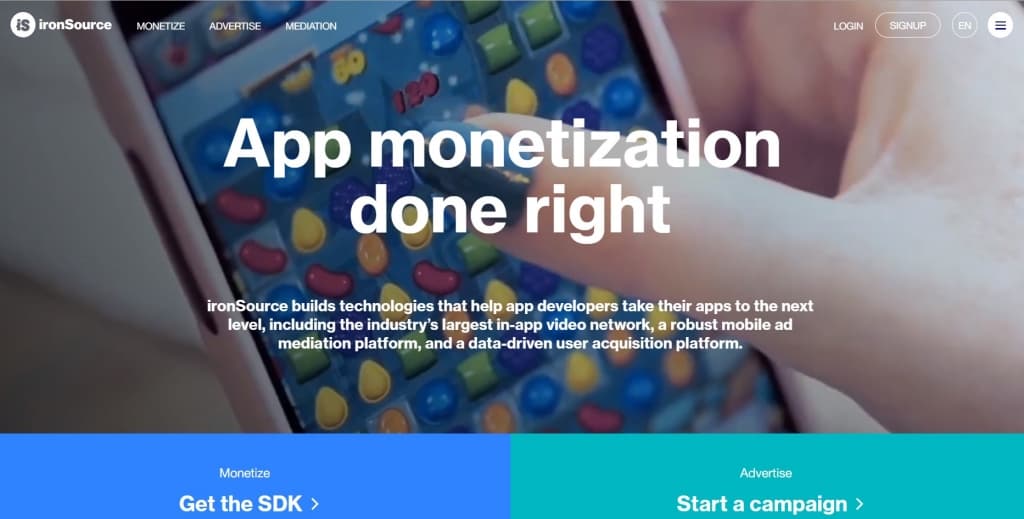 IronSource works with leading brands and advertisers from all over the world. The grid offers developers a lightweight SDK, advanced analytics and 4 formats to choose from (videos, banners, interstitials, offerwalls).
Of course, the list of ad networks is not complete. We will expand and update it.