Zeiss vr one plus is a virtual reality glasses from a German manufacturer. The peculiarity of such a helmet is that instead of a screen, you can use a regular smartphone. This innovation has become very popular in the last few years and is widely used by people. Zeiss vr one plus virtual reality glasses work with games that have been equipped with Google Cardboard functionality. According to official information, these glasses work with two models of phones. These are Apple iPhone 6, iPhone 6S, iPhone 6S Plus and Samsung Galaxy S5. The VR glasses are equipped with a tray and you can place a phone from 4.7 to 5.5 inches in there. However, the manufacturer said that in the future it will try to expand the number of phone models that can be used in Zeiss vr one. The company that developed this device has been operating on the market for a long time. It specializes in the production of optics, appliances. Its founder is considered to be Carl Zeiss. He founded this company in 1846 and to this day it is actively functioning and continues to delight customers with quality products. However, in 2013 the name was changed. It has been shortened and the word Carl has been removed.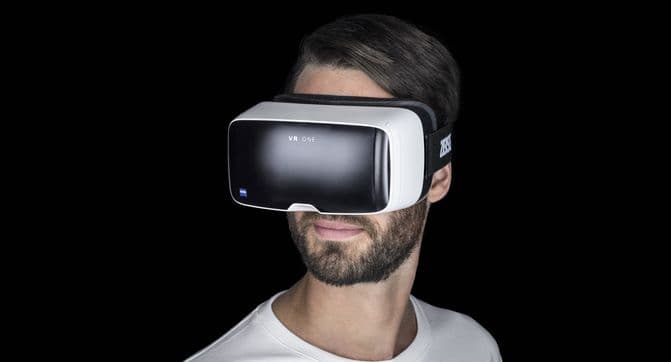 Design
The mask is made of white matte plastic, the advantage of which is that it does not leave fingerprints. There are black inserts that emphasize the original design, as well as the taste of the developers. A translucent tinted shield on the front of the helmet covers the phone that you need to install in the virtual reality glasses. The tray into which the smartphone is inserted slides out of the side panel of the helmet. After placing the gadget, the tray is inserted back and the glasses begin to function. In the tray itself there are special slots that are designed for the cable, camera lens, and headset. The developers have tried and made special ventilation holes that cool the helmet system and also prevent fogging of the lenses. This introduction greatly affected the operation of the device, because due to the constant cooling of the system, your virtual reality glasses will work much longer. Also thanks to this, the possibility of a short circuit during use is greatly minimized, which is also a huge plus for users. The presence of a special gasket-seal, which is made of finely porous foam rubber, makes the use of the helmet very comfortable for people who wear glasses. They will be comfortable to wear for people with small as well as medium frames. Therefore, if you are the owner of ordinary glasses, then you have nothing to worry about, because you can use virtual reality glasses without any difficulty. The advantage of these glasses is the special straps. They grab your head through the back of your head, as well as over your temples. This arrangement allows your head to feel comfortable and not tired during prolonged use of the glasses. However, disadvantages are still present. So, users on the Internet very often complained about the pain in the cheekbones that they felt after using Zeiss vr one plus.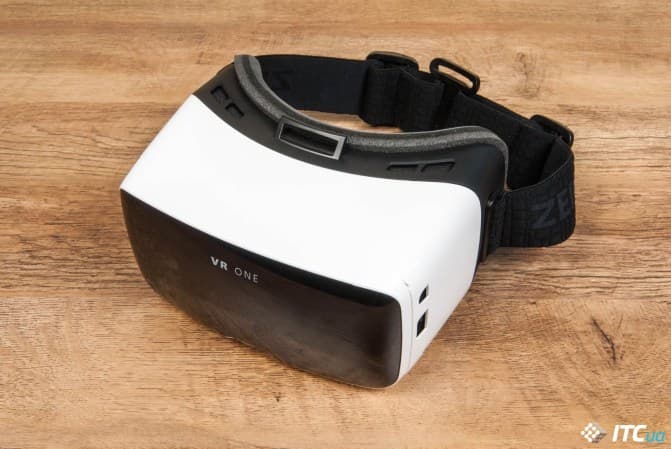 Work
To start using these glasses, you need to download a special application called VR ONE Media. It can be downloaded for both android and apple owners. This application is necessary to provide a special hub for downloading and running applications. Also, these glasses do not have any controls, which, on the one hand, greatly simplifies the work, and on the other hand, makes launching applications a rather laborious process. Therefore, in order to get started, you just need to place the phone inside the glasses. The interface looks like a fragment of a huge sphere. Applications downloaded from Google Play or the app store are projected on it. There are two modes of operation. The first - the usual one - is a portrait orientation of the smartphone, and the second is a virtual one. To run it, you need to translate the phone into landscape orientation. In order to select an application, you need to turn your head. And to launch it, you need to point the sight and hold it in this position for a couple of seconds until the "progress" column is completely filled. However, all actions in applications are performed in a similar way, and as a result, your work in virtual glasses will be long and unhurried. Unfortunately VR ONE Media has a big drawback. It is a shell of available programs, but not a full-fledged store. Therefore, after selecting the download button, you must take off your glasses and get your smartphone out of them. After that, put your gadget in portrait mode and press the download button again. There are plenty of applications for these glasses. There are also races, roller coasters, shooters, and there is also a cinema. However, their quality leaves much to be desired. All because of the relatively low graphics, which should be improved.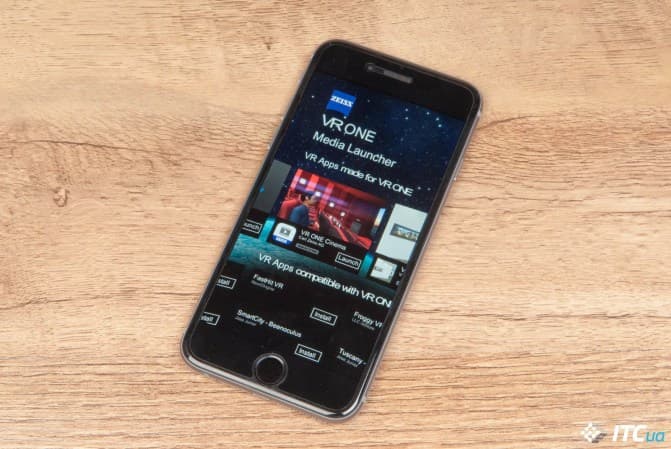 Components
When purchasing these virtual reality glasses in the kit, you will receive:
The Complete Zeiss VR One User Manual
Zeiss VR One
Special mount for virtual reality glasses
Charger
Be sure to read the user guide for the Zeiss VR One virtual reality glasses after purchase. This is necessary in order to avoid breakage of glasses, as well as all kinds of injuries.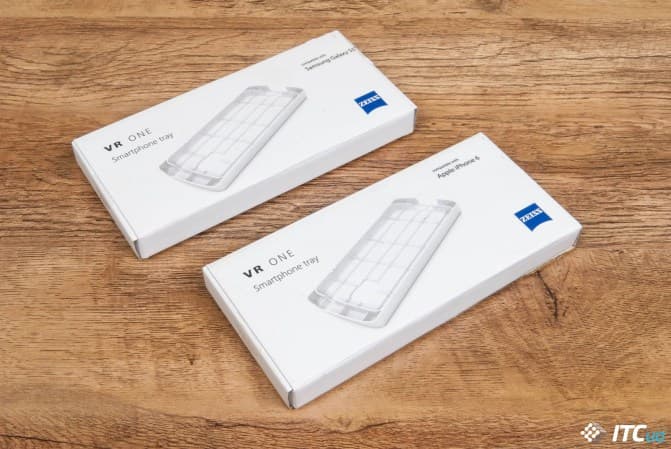 Testing
When testing on an iPhone 6, the following conclusion was made. The field of view was quite good and comfortable. The manufacturer assures that the viewing angle is 100 degrees. However, the display resolution was not very high quality. The pixels were large enough. It also lacked 3D animation. Therefore, it was not possible to see a very real picture. A test was also conducted on the LG G3 smartphone. It was installed in a tray not intended for him. However, apart from the fact that periodically it was necessary to support the hands at the required distance from the lenses in order to obtain a clearer image, no other shortcomings were identified. Also, the increased resolution on the new device gave a pleasant feeling in the form of a better and clearer picture. Thus, we can conclude that phones of other brands can really be used in the operation of these glasses, however, you will feel some discomfort in use.
Cost
These virtual reality glasses cost about a hundred dollars on average. This is quite a lot of money for such glasses. Due to the highly inflated price tag, some people are still not able to purchase this product. Manufacturers of analogues in the world offer the price tag several times less for exactly the same equipment. Due to this, the company constantly loses some of its potential customers, which negatively affects its budget. Unfortunately, if we take into account the fact that a touchscreen phone is required for such a device, then it would be more profitable to purchase full-fledged virtual reality glasses.
Pros and cons
We analyzed the information received and identified the pros and cons of this development.
Pros
It is possible to use it with regular glasses without feeling any discomfort.
VR glasses support multiple phone models.
There is support for two operating systems at once. These are Android and ios.
There is a fairly large view of the glasses, which makes their use convenient and comfortable.
Very convenient launch of the camera.
Virtual reality glasses are very convenient and also mobile.
There are a large number of applications that you can test.
Cons
Virtual reality glasses do not have hardware controls.
Relatively low level of applications that are available for use.
The price is quite high, which is why the purchase of these glasses is not available for people with an average and low income.
No additional sensors.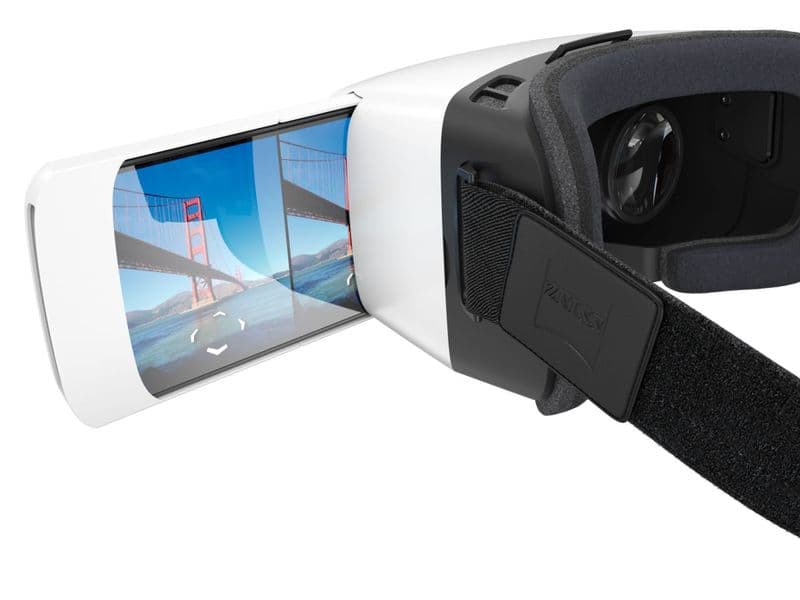 Output
Thus, buying Zeiss vr one plus virtual glasses is a pretty good option. This helmet is made of high quality and has good ergonomics. It has "potential" compatibility with other android smartphones. Also, these glasses can be easily used by enthusiastic programmers who want to try themselves as a programmer and test their skills. Indeed, for this, the official website of the company contains the necessary files in the SDK format. Zeiss vr one plus deserves your attention. He can easily compete with his counterpart Gear VR from Samsung. The manufacturing company should seriously deal with the controls of this device, as well as reduce the price. Thus, the company will be able to gain its wide audience and earn trust in the virtual reality glasses market. Unfortunately, you will have to purchase a quality device, because only then will your purchase pay off 100 percent, and the glasses will open up all their possibilities to you. One way or another, it is up to you to decide on the acquisition. And before making this decision, you should weigh the pros and cons and take the right side.