If you want an unforgettable movie experience, then VR is exactly what you need. The experience will surpass the notorious IMAX.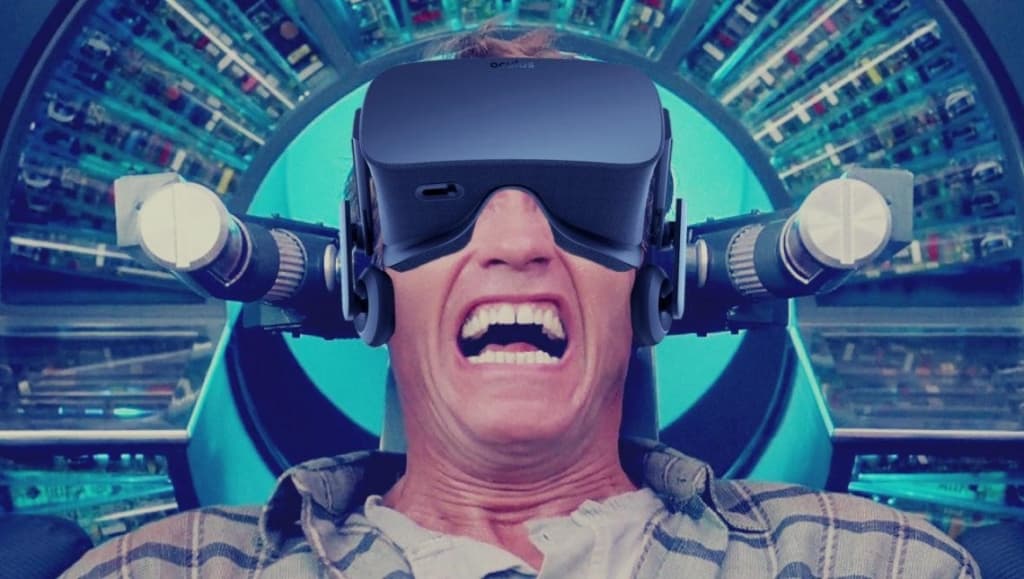 Action
1. Transformers: The Last Knight (2017)
In terms of action, the Transformers franchise hasn't slowed down. This is a super-epic fusion of action and fantasy. Be sure to watch The Last Knight in VR. It has a lot of fantasy elements, because it turns out that the knights of King Arthur are none other than robots.
2. Ghost in the Shell (2017)
A rather good adaptation of the manga. Sexy Scarlett Johansson played the role of a cyborg who is trying to figure out if he can be considered human. A great example of cyberpunk.
3. Mummy
Warner Bros. Guide Entertainment decided to reanimate the classic monsters. One of the first was "The Mummy". The script, to put it mildly, is "C grade", but the picture is very watchable. Download the movie in VR if you love Tom Cruise's stunts.
Adventure
4. Jumanji: Welcome to the Jungle (2017)
Modern teenagers find an antediluvian prefix. Purely for the sake of sporting interest, they decide to play Jumanji. And in a moment the guys are really fighting for their lives.
5. Fantastic Beasts and Where to Find Them (2016)
Another branch of the Harry Potter universe. Newt Scamander is a slightly weird wizarding zoologist. He travels the planet and watches fantastic creatures. Look at them and you are through VR glasses.
6. Tarzan (2016)
An old tale told in a new way. At its core, the film is a continuation of the legend of Tarzan. The boy, raised by monkeys, grew up, got married and returned to London. But his heart yearns for home - an impenetrable jungle.
Download and watch in 3D.
Comedy
7. Horoscope for good luck (2017)
Often, domestic comedies are adequately perceived only in the retelling of BadComedian. "Horoscope for good luck" is an exception. A light Russian film in VR with a moderate amount of dirty jokes and a decent plot.
Comics
8. Justice League (2017)
Zack Snyder is the master of the production. You can peer into his frames for hours, especially if you do it in VR.
9. Wonder Woman (2017)
Do you like movies about strong women? Meet Diana - a warrior, an Amazon, a Louvre worker and just a beauty.
10. Suicide Squad (2016)
Who will save the Earth from the ancient evil? Of course, modern villains. Criminal supergeniuses were united in a detachment and forced to work for the benefit of society. The guys are assigned missions from which it is impossible to get out alive.
Horror/Thriller
11. Piranha 3DD (2012)
As usual, the sequel is inferior to the original, but if you do not make high demands on the film, you will be fine. Half-naked girls and beefy guys in packs go to feed the piranhas. Blood and beautiful bodies is a great picture for VR.
12. Forbidden Zone (2015)
A chilling mixture of zombie shooter and horror movie. A couple of friends took a camera and decided to look for treasures from the Second World War. As a result, they fell into the decaying hands of the revived dead. Enhance the atmosphere of the movie with VR technology and we guarantee you will get your pants wet.
13. Poltergeist (2015)
A horror classic. The family moved to a new house. At night, something strange happens in the location. What to do? Rather sell real estate? No, there is only one way out - to put a camera and try to expel the ghost.
14. Ghost Stories (2018)
A psychology professor has dedicated his life to debunking ghost stories. However, there is a hole in the old woman, his new patients are three men who will convince him that they are right.
Drama
15. Midnight Sun (2018)
Katie has a rare congenital disease. She cannot be in the light of the sun. One day a guy appears in her life who replaces her heavenly body.
Documentary
16. Discovery TRVLR (2017)
Discovery and Google have teamed up and created a VR project that is unique in its scope. You will be able to travel across 6 continents in the blink of an eye. A series of films shot in 360 degrees. To view, download the app.
17. Aldabra (2015)
The mysterious and beautiful island is located in the middle of the Indian Ocean. Its landscapes are delightful - white sand, blue water, green palm trees. The fauna is the pearl of the location. Species that are almost exterminated live here.
18. Journey to the End of the Universe (2008)
National Geographic and Discovery provide a chance to explore our Universe in detail, from the bowels of the Earth to the remote corners of space.